Best Earbuds Sport
Posted on March 08, 2022 by Fed Alcius
Innovation
If you are a proactive person, then you might hate one thing about the earbuds and that is the earbuds falling out of the ears. So, to continue your activities without any such issues and keeping the music and calls on you need the best earbuds sport.
These are specially designed to stay in your ear without any falling issues. Here we have some different types of best earbuds sports products that you can select from.
1. Best Earbuds With Bass: M11 TWS
While the wired headphones and earphones provide amazing sound quality with good bass, the True wireless ones do not provide the same. However, This product provides the best experience of listening to bass.
Features
Model: M11
Headphone type: in ear headphones
Music time: about 80 hours
Call time: about 80 hours
capacity: about 3300mAh
Standby time: about 30 days
Bluetooth distance: about 10 meters
Waterproof: IPX7 waterproof
Connection method: single/double free to use
Color: black
Function: music play/pause, connect/hang phone, reject call, CVC8.0 emergency power, up and down song switching, binaural HD call
When you get the right amount of bass your music listening experience changes and these earbuds make a great choice with the best amount of bass added to them.
Order: M11 TWS LED Digital Display Touch
2. Best Overall Bass Earbuds: F9-5 TWS 5.0
When you look for a good pair of earbuds you are not looking to get bass only. Good earbuds must provide a scrumptious combination of highs and lows, and this is exactly what these earbuds do.
Features
Bluetooth V5.0, support most of bluetooth devices and lower power consumption

2000mAh charging case can full charge 2 earphones around 5 times, offer more 24 Hours music time

With waterproof technology, no need to worry about water and sweat anymore

10mms dual drive units, enjoy 9D strong deep bass music sound

Popular touch control function, support switch songs, phone call and call voice assiatant.
Order: F9-5 TWS 5.0 Wireless Earbuds
3. Best Running Sports Earbuds: TOZO T5
If you need the best earbuds android and iPhone products that will be your perfect companion while running and jogging, then there is no better choice than this one.
Features
One of the best features of this best earbuds android and iPhone product is that the ear hook is fixed. This will never get lost on its own like other folding hooks.
The design and 12 mm large speaker makes it one of the best earbuds for bass. So, your music listening experience will get immersive with this product.
These are the best earbuds for bass and sport as they provide effortless pairing. You only need to take them out of the case, and they will be paired.
TOZO is an amazing brand when it comes to reliable earbuds, and it is one of the best earbuds android and iPhone products that you can get from TOZO.
4. Best Smart Sport Earbuds: Motast Bluetooth Earbuds
Knowing everything about your earbuds never makes you get into any trouble. When you are working out these earbuds can keep you always ready for all the action.
Features
The best feature of this best earbuds for the bass product is that it comes with smart indicators. These tell about the battery of the case and buds so that you never run out of power.
These earbuds come with an amazing battery that provides a total playtime of about 40 hours.
The IP7 waterproofing makes sure that you never have to worry about your sweat damaging these earbuds.
Apart from all the other features, these earbuds come with Bluetooth 5.1 which makes the connectivity and range even better.
5. Best Waterproof Sport Earbuds: BackBeat Fit 3150
These earbuds are designed very intelligently to ensure that users never have to worry about rain or sweat damaging these earbuds. Apart from waterproofing these bring a lot of other features as the best earbuds on a budget.
Features
Always Aware

These earbuds come with an always-aware feature that lets you hear your surroundings in an ambient sound.

Double support for activities.
The design of these earbuds provides double support. One with the ear hook and the other with the tin ear latches.
These earbuds pack power to work for the whole day with the case without any charging needed.
Are you the type of person who sweats a lot? If yes, then these are the best earbuds on a budget that you can fearlessly buy. With their amazing design, there will be no issues using them.
6. Best Workout Sport Earbuds: Bose Sport Earbuds
Getting earbuds with fixed ear hooks is not the right option for some people as they do not get the best fit. Well, this issue is solved with these earbuds. Considering the features and benefits of these earbuds they are the best earbuds on a budget to provide such features.
Features
Set of ear tips to select from
These earbuds come with 3 ear tips to select from which makes you get the perfect fit for your ears.
The beamforming array of microphones ensures to deliver crystal clear sound regardless of the noise around you.
Several options available
These earbuds are available in 3 color choices to choose from which means you can easily match your style.
While Bose is known for premium products, it is one of its earbuds that can provide you with the best value while maintaining a good budget.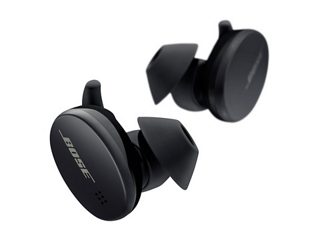 Conclusion
Getting authentic and genuine products online is getting difficult day by day. StoresGo can be your one-stop shop to find the best deals on authentic stuff. Make sure to check out the best sport earbuds here for selecting the right product for yourself.